The event "I'm NOT perfect", which creates the value of imperfect things with event participants and takes action in Africa, has been upgraded and will be held for the second time!
Incomplete event held in March 2021 "I'm NOT perfect"Approximately 1,000 people participated, and we were able to create a big action for Africa. We have received many requests for re-opening, and we have decided to hold the 2nd event from October 27th (Wednesday) to October 31st (Sunday), 2021 at Jingumae, Shibuya!


The apparel brand CLOUDY (DOYA Co., Ltd.) was launched with the aim of creating jobs in Africa. So far, we have created more than 500 jobs in Africa, mainly women and people with disabilities, and have delivered many products locally through stores and online.

However, on the other hand, there are many products that cannot be delivered because they are "incomplete". This must be considered as one of the very big problems facing the apparel industry. In this event, we aim to reborn things that have been buried in value because they are incomplete so far, into valuable things together with everyone, and connect them to a better future.
At the previous event, we were able to generate significant action together with our visitors by donating all proceeds to training costs aimed at improving the technical skills of workers working at factories in Ghana.

This time, the second time, we will report on what kind of changes the previous action has caused in Ghana, and aim to create even bigger actions with everyone.
In addition, the planning and operation of this event is mainly carried out by middle school to university students who are internship students of CLOUDY / certified non-profit organization Doooooooo (NPO Doooooooo).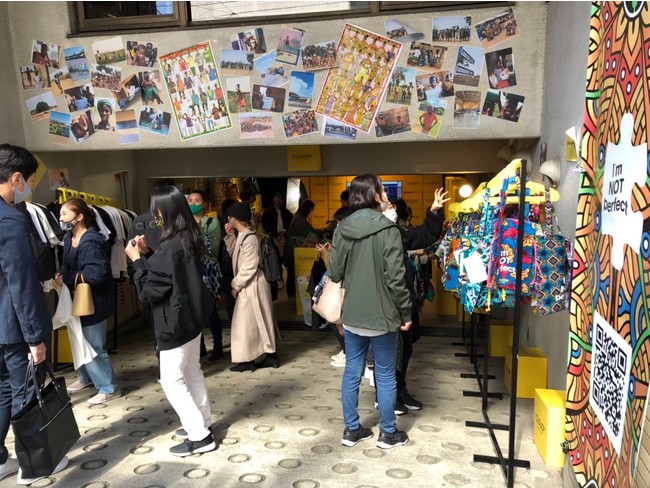 (Last time)


About "I'm NOT perfect"

"Imperfect + you = nice and special"
"If you were the last piece, how could you shine?
I want you to always have such a last piece. 』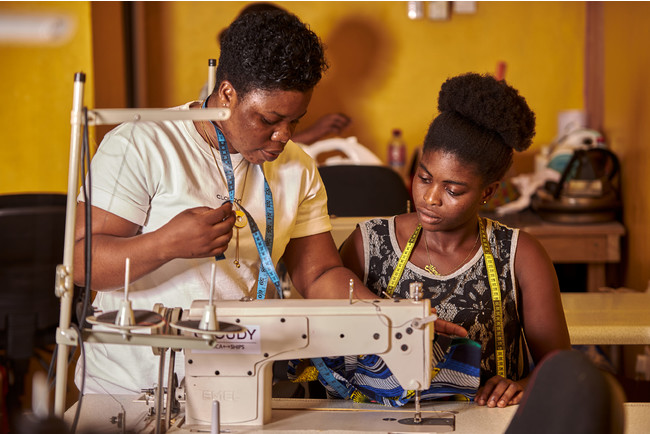 (CLOUDY own factory in Ghana))



《Features of this event》
1. Support things in the process of growth
At this event, we will redesign and sell items that are "imperfect" for various reasons, produced by workers at CLOUDY's own factory in Ghana, Africa, where technology acquisition is halfway. By distributing things that are still in the process of growth in the market, we aim to create a system where more people can earn income to live even in the middle of the process of growth and have the opportunity to acquire skills.

2. Take home the learning with the product
During the period, "Learn & Shop Time" will be held from 10:00 to 12:00 every day with advance reservations.
The internship student will guide you through the background and story of the products handled at this event, and we aim to have you take home the learning and opportunity along with the products you have purchased. We have prepared contents that can be enjoyed again not only for customers who are visiting for the first time, but also for customers who participated last time.


3,000 yen including tax (participation fee will be paid at the venue on the day)


Participants will receive original novelty goods limited to "Learn & Shop Time" only this time.


1 hour. After the 30-minute lecture, participants will have 30 minutes to shop. Please let us know your desired schedule from the form described in "How to participate" below, and we will contact you after deciding the time you want to participate.


Each session has a capacity of 15 people, and registration is on a first-come, first-served basis.


Please register your desired participation schedule etc. in the form of the link below. We will contact you by e-mail as soon as the time to participate is decided.


https://forms.gle/aGdD2qazrmjLAp3H7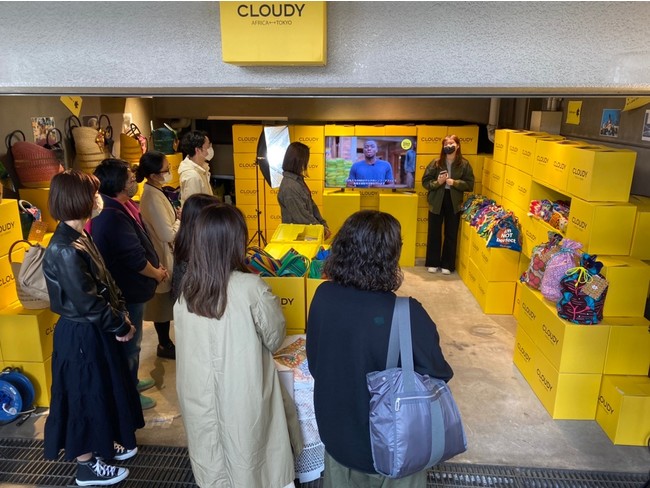 (Last Learn & Shop Time)

3. Let the customer decide the product price
There are inherently diverse ways to evaluate each item. At this event, customers will decide the price of the product to be sold in an auction-like format. Rather than determining the value based on the seller's evaluation, we aim to have more items accepted by customers by evaluating them according to various criteria.
In addition, all proceeds from the sale of this event will be donated to training expenses for local Ghanaian workers through the authorized NPO Dooooooooo (NPO Doooooooo) with which CLOUDY is affiliated. By adding your feelings of support to the local area to the product price, you can deliver greater future possibilities to the local area.

4. Internship student of CLOUDY/NPO Doooooooo leading the event
CLOUDY/NPO Doooooooo's internship students are responsible for the planning, PR, and management of this event. Two months ago, we split into teams to hold the event, and each of us had a role to play in preparing for the event. The event venue is filled with various ideas of students.

5. Worthless things = less waste
Even things that are considered worthless and turned into garbage have creators who use their precious time, thoughts, and resources to make them. We aim to create a system that preserves the value of as many things as possible and passes them on to the next person.
Imperfect things made in Africa can be reborn as "nice and special" with the participation of each and every one of you.
Through this event, we would like to create a new way of thinking about things that have been regarded as "garbage = worthless" and create possibilities for the future together with everyone.


In addition, details of this event are also being posted on CLOUDY/NPO Doooooooo's Instagram and notes for the event.
Please take a look.


CLOUDY:@cloudy.tokyo
NPO Dooooooooo: @npo_doooooooo


https://note.com/do_academy


【"I'm NOT perfect" POP-UP EVENT】
Date: October 27th (Wednesday) ~ October 31st (Sunday) 10:00 ~ 20:00
*Open until 19:00 on the last day
Venue: BCG Jingumae PROPERTY 1F, 6-19-21 Jingumae, Shibuya-ku, Tokyo

How to participate:
Advance reservations are not required for visits after 12:00.
10:00 ~ 12:00 will be "Learn & Shop Time" with advance reservations. For details, please see "Characteristics of this event" and "3. Take home the learning with the product".

About measures against infectious diseases:
・The event will be held after thorough measures to prevent infectious diseases such as staff temperature measurement, physical condition confirmation, and disinfection.
・When visiting, please cooperate with wearing a mask, disinfecting your hands, and measuring your body temperature. If you do not cooperate, we may ask you to refrain from entering.
・The venue is a semi-outdoor space, but the number of people may be limited when it is crowded.
We appreciate your understanding and cooperation.


[Overview of CLOUDY]
"Live and enjoy the cloudy days properly".
We redesign the world's problems and create new possibilities for fashion together with our customers.
CLOUDY operates its own factory in Africa (Ghana/Kenya) for the purpose of creating jobs and creates 500 jobs. While using traditional African fabrics and materials, we develop products that emphasize quality and production background, and through our own NPOs and NGOs, directly contribute to employment, education, health, and environmental issues in Africa. Give back and realize a sustainable circular business.

Established: January 2015
Representative: Yuto Douya, Representative Director
Permanent store: 6-20-10 Jingumae, Shibuya-ku, Tokyo
RAYARD MIYASHITA PARK South 2nd floor
HP: https://cloudy-tokyo.com/
Instagram : @cloudy.tokyo
Twitter : @cloudy_tokyo

[Overview of Dooooooooo certified non-profit organization]
A certified non-profit corporation established in 2010. Starting with support for children living in slums in Kenya, we are currently building schools in Ghana to create educational opportunities, building factories to create employment opportunities, and providing health support through the provision of school lunches and sex education. implementation. With the slogan "Move first," he continues to take action in Africa with a focus on employment, education, and health.

Established: December 2010
Representative: Yuto Doya, Representative Director
Location: Kyowa Building 2F, 1-16-26 Ebisu, Shibuya-ku, Tokyo
HP: https://npo-doooooooo.org/
Instagram : @npo_doooooooo
Twitter : @NpoDoooooooo

Inquiries regarding this matter:
Authorized Specified Non-Profit Organization Dooooooooo
TEL:03-6459-3946 
mail info@doooooooo.org